Book a consultation with one of our Exercise Physiologists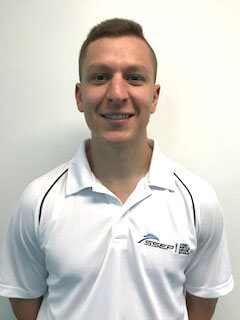 Cameron Hyde
Exercise Physiologist
Cameron is an Accredited Exercise Physiologist and Sport Scientist with ESSA and has a passion for chronic disease management and helping injured
workers return to work promptly with effective rehabilitation. Cameron has a particular interest in chronic disease management, musculoskeletal rehabilitation including pre/post-operative and metabolic disorders.
Cameron has gained experience in the prevention and management of chronic conditions such as osteoporosis, arthritis, diabetes, cardiovascular disease and falls prevention. He is registered with Medicare, DVA and WorkCover and has led hydrotherapy individual sessions and group sessions. Cameron has a passion for helping people achieve their goals and creating positive behavioural changes in their lives.
Cameron has a strong sporting background which led him towards being an exercise physiologist as he competed for Australia in Track & Field and for NSW in Touch football.